Broach Machine - Heavy Duty Model

Miles Broach builds new and used broach machines to meet any broaching application.
Miles broach machines are built to handle deep broaching jobs with ease.
Unusual Combination: deep broaching "cutting" capabilities plus extremely fast
broach speeds (up to 240 FPM).
Ideally teamed-up with carbide broaches to make heavy cuts in difficult materials...
ductile iron castings, wrought alloys, stainless steels. Massive construction throughout.
When used with a Ty Miles reciprocating in-feed table system, multiple passes can be
programmed to broach at extremely large metal removal jobs (one-inch deep is a cinch).
Also, two or more broaches can be mounted (in holders) on its wide ram so several work pieces can be machined with each broaching stroke. Separate hydraulic power system meets ram force requirements up to 20 ton. Broach Machine Models: 24", 30", 36", 42", 48", 60" broach stroke.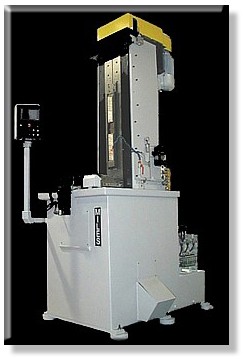 Broaching still remains the fastest machining method over milling or high speed machining!
If you're presently doing production milling, high speed milling, straddle milling, using the Miles high speed broaching method is much more efficient and economical. Productivity improvement to ten times or more is not uncommon, as the speed of metal removal by broaching is vastly greater. Short Cycle Time, two to four seconds, with high quality surface finishes is common along with good burr control.
Complicated irregular shapes can be easily broached. Commonly broached surfaces include circular and non-circular holes, splines, keyways, and flat surfaces. Some other broaching verses milling applications include broaching of whistle notchs, taper flats, splined couplings, broaching deep slots and T slots, squares or hex shapes. Typical workpieces include small to medium sized castings, forgings, screw machine parts, and stampings. Broaching simply lowers costs to manufacturers over milling, while offering the fastest way to remove metal and providing quality workmanship without the need for specialized training.