Fully Automated
Broaching Machine
with Secondary Operations
MBLD10-36-120R
From automated multi-tasking broaching machines utilizing input and output part conveyors, and pick and place loading, to stand alone multi purpose broaching machines, let us design a broaching system for you that meets the tough demands for today's manufacturing environment. For all your broaching and manufacturing needs, we can provide you a quality solution at an affordable price. Miles can combine broaching with secondary operations such as drilling and or reaming, on a multi station machine.
Separate hydraulic power system meets ram force (push/pull) requirements up to 12 ton.
Max. Broach speed, 120 FPM (up to 180 FPM available).
Models: 18", 24", 30", 36", 42", 48", 60" stroke.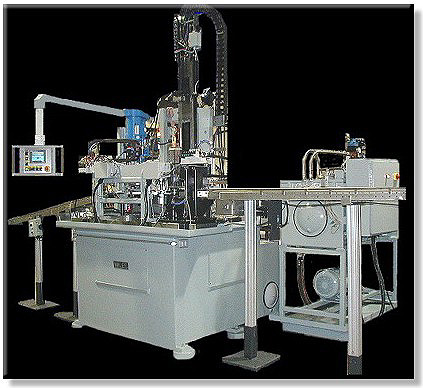 Horizontal Broaching Machine


MEH6-36-30

Our Horizontal broaching machines are very Economical and a good choice for internal broaching applications. They are available in a wide variety of tonnages and broach strokes to suit any broaching application.
Broach stroke length is also fully adjustable permitting faster production rates when full stroke is not required.
Max. Broach speed, (up to 120 FPM available).
Models: Up to 60" stroke.
Max Tonnage: Up to 80 tons.